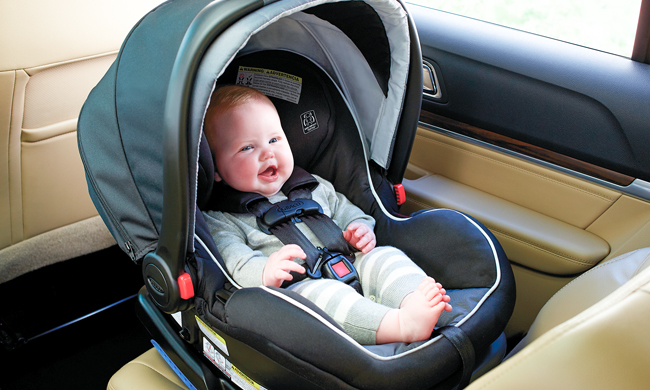 As a parent, one of the most important decisions you will make is choosing an infant car seat. The process of purchasing and correctly installing a car seat can often feel like an overwhelming task.
To help give parents that extra layer of confidence they need before baby's first car ride home from the hospital, the safety experts at Car Seats for the Littles offer these tips for proper car seat installation and car seat use.
Keep Children 2 Years and Younger Rear-Facing
Babies have heavy heads and fragile necks. The neck bones are flexible and the ligaments are loose to allow for growth. When a child rides rear-facing, his or her whole body is cradled by the back of the safety seat in the event of a crash, which is why you want to keep your child rear-facing for as long as possible. The American Academy of Pediatrics recommends keeping your baby rear-facing until at least 2 years old.
Ensure Correct Car Seat Installation
A study by the National Highway Traffic Safety Administration shows that 49 percent of infant car seats are installed incorrectly. Faulty installation can result in preventable injuries, so it's important the infant car seat is properly installed. First, ensure the car seat you purchase works in your vehicle and read the manufacturer's instruction manual. A car seat with a simple installation process, like the Graco SnugRide SnugLock 35 DLX Infant Car Seat, can help eliminate some of the installation guesswork. The base offers hassle-free installation using either the vehicle's seat belt or a Lower Anchors and Tethers for Children (LATCH) system. In three simple steps, parents will hear an audible "click" and feel confident the car seat has been securely installed. This seat also features a four-position, one-hand adjustable recline with an easy-to-read bubble level indicator to determine the proper recline level. Find more information at gracobaby.com.
Properly Position Newborns in Car Seats
Be sure the newborn's bottom is all the way back with no space behind him or her and that the child isn't slouching. Additionally, check to make sure the seat is sufficiently reclined to prevent the baby's head from falling to his or her chest and potentially blocking the airway.
Test for Proper Installation and Security
Before placing baby in a car seat, perform the "1-inch test." Give the seat a firm shake at the belt path with your non-dominant hand. If the seat or base moves less than 1 inch, the installation is secure. Once baby is properly positioned in the seat, make sure the harness straps are properly tightened using the pinch test. With the chest clip placed at armpit level, pinch the strap at your child's shoulder. If you are unable to pinch any excess webbing, your child is properly secured.
One of the most cautious drives you'll ever take is the first one home from the hospital, but with the right infant car seat, proper research and installation practice, you can feel more confident from the moment you leave the hospital and every drive after.
The following two tabs change content below.
hellokelly
With a love for challenge Kelly has worked for the past 15 years to become a recognized social media strategist, trainer, hobbiest blogger, and is currently serving as the director of marketing for the largest medi-spa franchise in Las Vegas, NV. Her clients include businesses of all sizes, from sole proprietorships, to Fortune 100 companies. Some of the companies Kelly has worked with include Johnson and Johnson, Best Buy, Estée Lauder, DaVinci, and many more. Kelly recently learned that she is expecting her first baby and decided to take a step back from the corporate world and jump head on back into the blogging. She is working as a blogger and consultant for several top -notch sites including this one and will be focusing on creating compelling family, baby, and lifestyle content as she ventures into the next stage of life. If you are interested in being featured in one of Kelly's home or lifestyle campaigns or would like more information about the platforms available for promotion she can be contacted directly at HelloKelly@gmail.com.
Latest posts by hellokelly (see all)